Butler County Fire Police Association
 <![if !vml]>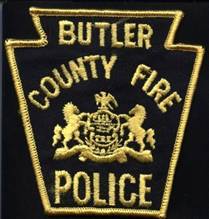 <![endif]><![if !vml]>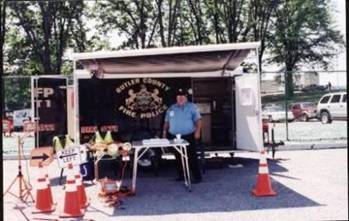 <![endif]><![if !vml]>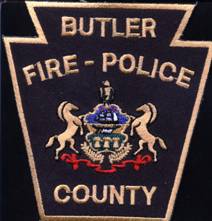 <![endif]>
Contents

Information

Favorite Links

Contact Information

Zone Information

Current Projects
Information
Butler County Fire Police Association is a group of Fire Police Officers from twelve units throughout Butler County Pennsylvania. These Officers not only belong to the Association, but they also assist and train with each other.
Key responsibilities
Safety, Traffic Control, Crowd Control
Departments
Buffalo, Connoquenessing, cranberry twp., Adams area fire district, north Washington, Oakland twp. -- Oneida valley, Penn Twp., Petrolia, Portersville, Prospect, Saxonburg
Favorite Links

Butler County Fire Chiefs Association

Pa Code 

Berks County Fire Police Association

   Pa Fire Police Association

  Montgomery County Fire Police Association

  Fayette County Fire Police

  Chester County Fire Police Association

  BC3 Public Safety Training

  Delaware County Fire Police

  Somerset Cambria County Fire Police Assn.
Contact Information
E-mail address
pgbart@zbzoom.net
Web address
Type some text.
Office phone
9-1-1 Emergency
724-816-2115
Current Projects

Fire Police Challenge

Fire Police Awareness

Fire Police Quick Response Team
Zone One (Butler Township) Butler County 911
Zone Two (Townships of Venango, Allegheny, Washington, Parker, Concord, Fairview, Oakland, Donegal, Summit, Clearfield)
Zone Three (Townships of Penn, Jefferson, Winfield, Middlesex, Clinton, Buffalo)
Zone Four (Township of Cranberry)
Zone Five (Townships of Mercer, Marion, Slippery Rock, Cherry, Worth, Brady, Clay, Muddy Creek, Franklin, Center)
Zone Six (Townships of Lancaster, Connoquenessing, Jackson, Forward, Adams)
Officers
President    Eugene Bartlett
Vice President     Harold Boyer
   Secretary    
Treasure   Jack Urling
Board of Directors
Three Year Chuck Williams
  Two Year   Dan Cox                                                                                                         
One Year Ray Muser
Commissioner   
Chaplain Mark Norton
Zone Captains
Zone One John Eagle
Zone Two Chuck Williams
Zone Three Harold Boyer
Zone Four Jim Robinson
Zone Five Dave Wright                                   
Zone Six Dan Cox
Last revised: Date 12/14/2019